CBB1
Connexion by Boeing operated a 737 which was used as a test and demonstration platform.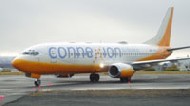 In late 2005, I had the opportunity to travel with the plane on a portion of its last trip around the world demonstrating the Connexion by Boeing system and various system enhancements such as streaming live video and onboard mobile phones using a GSM pico cell. Here we are in Reykjavik, Iceland shortly before our last demonstration.
October 2005
Andrew L. Dul
Background
I have been involved in Internet networking technologies since 1996. My experience has varied from web programming to network engineering, systems integration, and information security. I was directly involved in the growth and success of Internap's Network Operations Center. Following Internap, I worked at The Boeing Company, where I was involved in the successful deployment of the first airborne commercial Internet services. After the Connexion program was canceled, I moved on to an enterprise role as the systems and network architect for Perkins Coie. While at Perkins Coie, I became more involved in Information Security and in 2008, I became CISSP certified. I moved on to a consulting roles in 2010 providing network and systems consulting via 8 Continents Networks, LLC. I completed an MBA at Seattle University in 2012.
8 Continents Networks, LLC
I formed 8 Continents Networks, LLC in 2010 to provide professional independent internet infrastructure consulting. Today, I provide network and systems architecture, engineering, and operations services.
ARIN Advisory Council
Since 2014, I have served on the ARIN advisory council. I also served a previously from 2002 through 2005. As a member of the advisory council I have the opportunity to be directly involved in the Internet Resource Public Policy development process.
I have been active with ARIN and the four other Regional Internet Registries (RIRs) since 1999. I have authored a number of number resources policies, including being the original author of the Multiple Discrete Networks policy. The ARIN public policy process is a key part of Internet operations. The public policy process determines the allocation policies which are used to distributed IPv4 and IPv6 addresses and other unique Internet number resources.
In early 2012, I started the blog IP Address News to capture news events and major changes in the IP addressing policy space.
Cascadeo Corporation
From 2010 - 2013, I worked with Cascadeo providing top-tier architectural expertise to a wide range of companies and organizations. At Cascadeo, I helped provide architecture and engineering support for a number of clients including regional Internet Service Providers and hosting companies. I also supported organizations through their operational projects moving toward cloud based infrastructure.
Seattle University
In 2012, I completed my pursuit of a Masters in Business Administration at the Albers School of Business and Economics at Seattle University. While at SeattleU, I was able to participate in a yearlong leadership challenge through the Red Winged Leadership Award which culminated with a Leadership Specialization certificate.
Perkins Coie LLP
In early 2007, I joined Perkins Coie LLP. As the Systems Architect for Network Services I was involved in the design and development of the network and systems to support the firm. One of my primary projects has been the technical lead for a firmwide deployment of VOIP technology using Cisco Unified Communication products. I have also been deeply involved in a data center rearchitecture and the technical lead for the evaluation of the current MPLS WAN network.
Connexion by Boeing
In 2003, I joined The Boeing Company where I joined the Connexion by Boeing business unit as a Network Design Engineer for the Terrestrial Network.
My role involved the design and selection of new technology and applications for deployment on to various mobile platforms, including commercial aircraft, maritime vessels, and executive aircraft services. I was involved in research and investigations for future voice services including the demonstration of GSM pico-cells onboard CBB1 our 737-400 test and demonstration aircraft. I was also involved in the design and implementation of Quality of Service (QoS) provisioning throughout the global IP network, including the satellite communications segment.
In 2005, I presented to the Internet Engineering Task Force (IETF) Connexion by Boeing's implementation of Global Mobility using Border Gateway Protocol (BGP) at the IAB Thursday plenary meeting. I was also involved in the IETF NEMO working group which was discussing and proposing standards to provide solutions for airborne network mobility challenges. This presentation was also given to the North American Network Operators Group (NANOG) and other Regional Internet Registries (RIPE and APNIC) in 2004. In early 2006, I wrote a Whitepaper describing the basic operations of the Global Network Mobility using BGP.
IETF 62 plenary presentation
Whitepaper
In August of 2006, The Boeing Company announced that it would discontinue the Connexion by Boeing service. I was involved with the shutdown of commercial services through the end of 2006.
Internap Network Services
I was a member of the operations and engineering team at Internap Network Services starting in 1998. While at Internap, I was involved in the day to day operations of the network and new product engineering and implementation. Internap is one of the industry leaders in the development of intelligent routing, specializing in BGP optimization.
Sacramento County Office of Education
Prior to joining Internap, I was employed by the Sacramento County Office of Education where I was involved in operating their regional wide area network and other local area network services. I also was involved in web development through the Outreach and Technical Assistance Network.
University of California, Davis
I have a bachelors degree in Electrical Engineering from the University of California, Davis.
Resume
If you are interested in speaking with me about new opportunities or wish to see a full resume please contact me via email.